This year, Usher's iconic song and album My Way will turn 25 years old and there's a vegan ice cream flavor that is perfect for celebrating the anniversary. That's because music legend Jermaine Dupri produced the song and album for Usher and is also the mastermind behind Chocolate My Way, an ice cream flavor Dupri produced under his brand JD's Vegan. 
On September 16, 2022, My Way will turn 25, marking a quarter century since Dupri first worked with Usher—alongside musical legends such as Manuel Seal, Babyface, and Lil' Kim—to create the breakout album that launched the performer's decades-long career. Working together on the album also solidified a lifelong friendship between Dupri and Usher. 
"This year marks 25 years since Usher released his breakout album, My Way. The most important part of this album is that it was the first album that I produced for Usher, which led to a lifetime relationship," Dupri told VegNews. "Usher was the perfect person to work with on this song and album because our friendship made working together very easy, and since we were both passionate about music and this album, it later translated into becoming a top selling and Grammy-nominated album for him. Being able to share that success together was overall a very rewarding experience." 
JD's Vegan
To commemorate their friendship and the iconic song and album, Dupri released Chocolate My Way as one of the first six flavors under his vegan ice cream brand JD Vegan. Thus far, this rich chocolate flavor has been a best-seller under the JD's Vegan brand—which, for Dupri, harkens back to the success of Usher's breakout album. 
JD's Vegan ice cream
Dupri launched his ice cream brand JD's Vegan last year in partnership with ice cream expert Malcolm Stogo and Big Innovations Group Inc. JD Vegan's rich ice cream is made from a base of coconut cream to deliver a thick texture without animal-derived ingredients. 
In addition to Usher's breakout album, Dupri is known for bringing to life some of the most iconic tracks and albums of the '90s, including Mariah Carey's Daydream and TLC's CrazySexyCool. It is undeniable that Dupri has a natural talent for producing memorable music and he is now turning some of his attention to ice cream as another outlet for his creativity.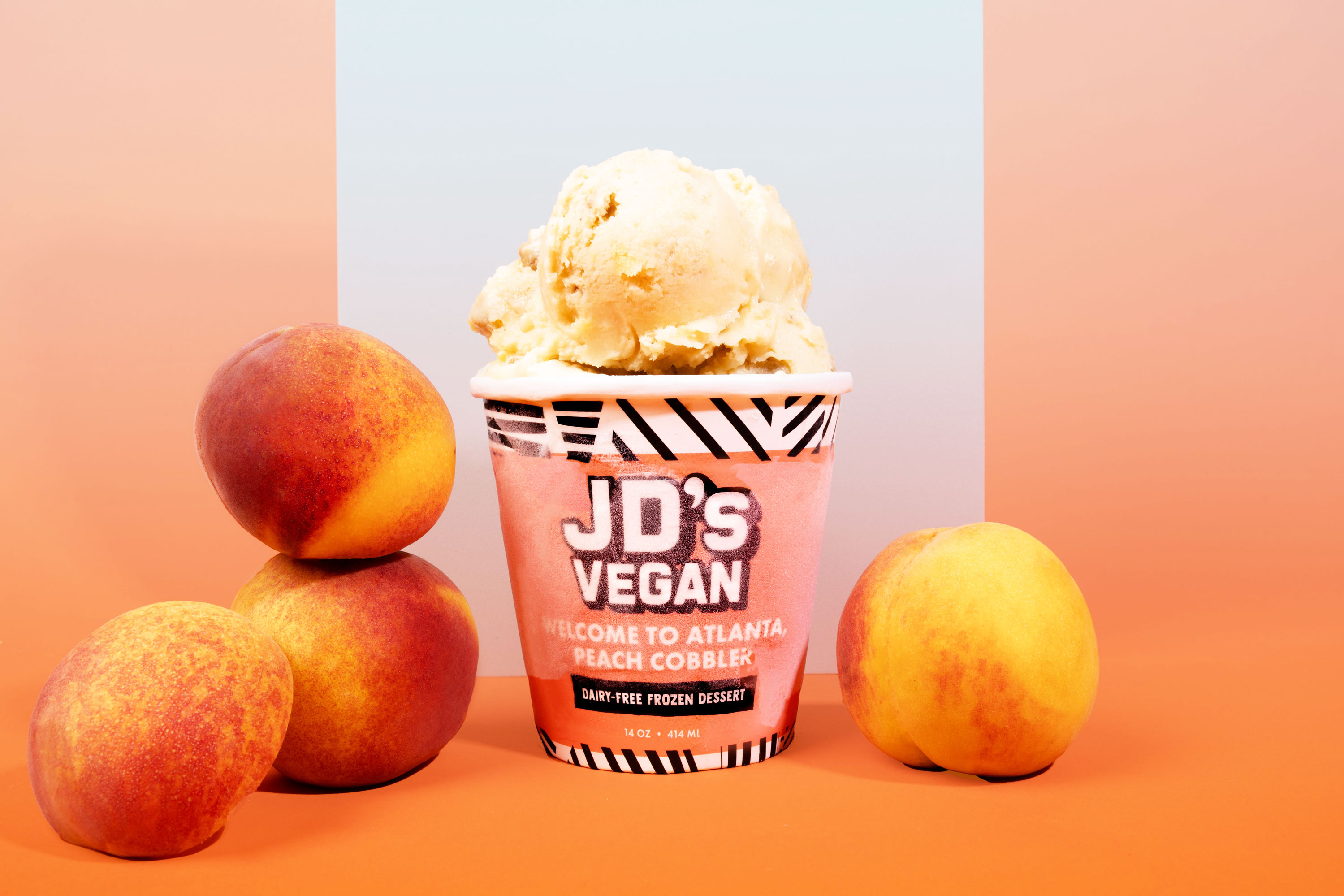 JD's Vegan
Under JD Vegan, Dupri came to market with three flavors inspired by Atlanta, the music mecca where he was raised: Welcome to Atlanta Peach Cobbler (made with golden peaches and dotted with crumbled cobbler); Apple Butter (a buttery apple base swirled together with toasted cinnamon streusel crumble); and Strawberry Sweetheart (featuring strawberry chunks and swirls). The next three flavors Dupri released under JD's Vegan were Key Lime Pie, (404) Cookies & Cream, and Chocolate My Way—an instant hit. 
"The Chocolate My Way flavor from JD's Vegan is having the same response as a pop culture and healthy lifestyle phenomenon. When I named this flavor Chocolate My Way, it just so happened to launch very close to the 25th anniversary of Usher's My Way album, so the energy surrounding me right now with these two projects is amazing," Dupri said. "I also called this Chocolate My Way to showcase that it really is chocolate, in my way—vegan, dairy-free, but even more delicious, ultra-rich, and ultra-smooth."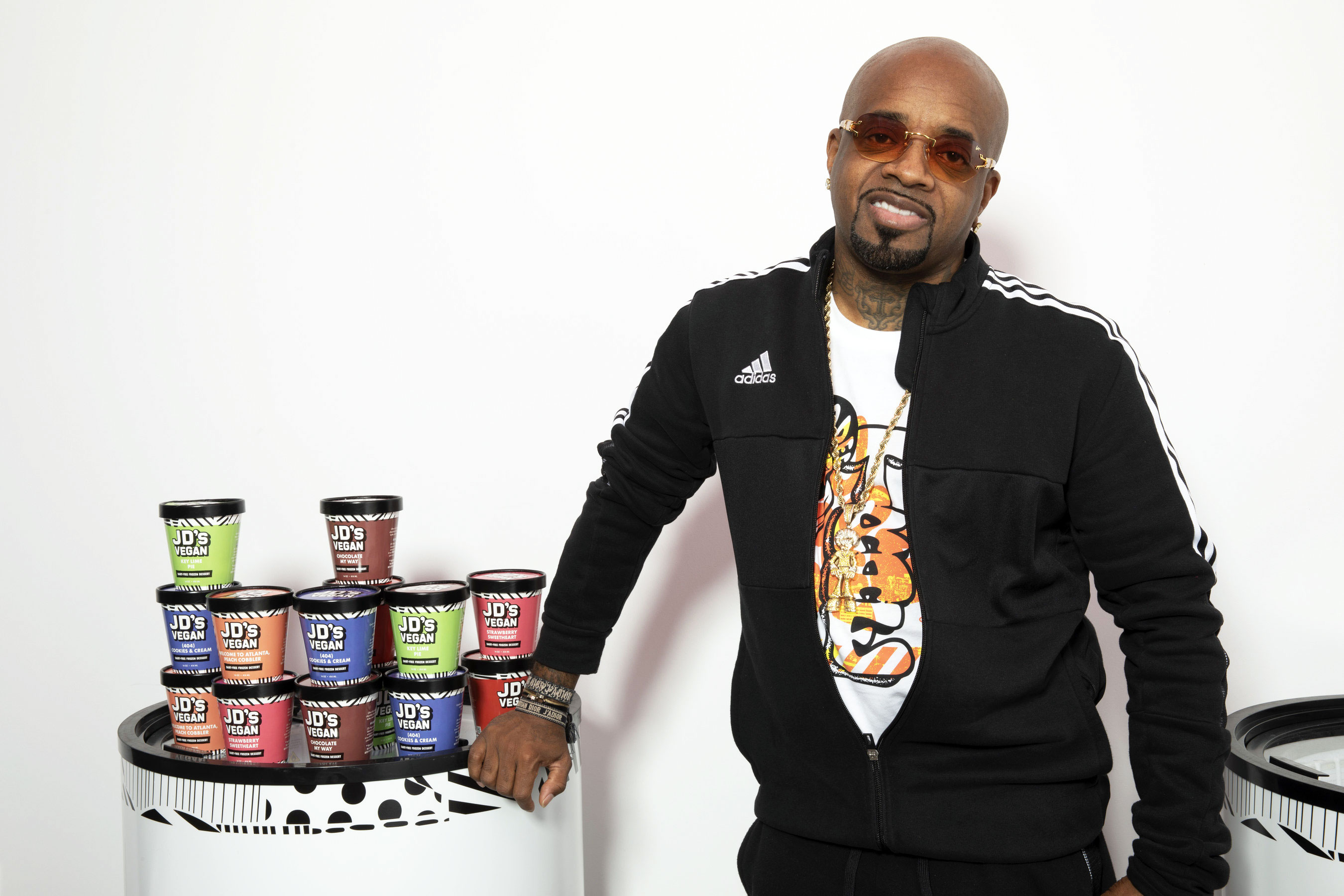 JD's Vegan
Jermaine Dupri shapes vegan ice cream industry 
Dupri initially went vegan to improve his health and has been eating plant-based for nearly two decades. Throughout the years, Dupri has worked on various campaigns to help others go plant-based. Through JD's Vegan, Dupri hopes to bring the same level of influence he had on the music industry into a new space, injecting his creativity into pints of vegan ice cream.  
"I wanted to shape the future of vegan ice cream, much like I shaped the rap game. Music has always been my main source of creativity and after being a devout vegan for almost two decades, I wanted to channel my creativity in new ways that my fans and dessert-lovers alike could enjoy," Dupri said. "I like to blend all my passions into JD's Vegan, by creating unique and delicious flavors that represent a piece of my hometown and are named after some of my top hits."
To give as many people as possible access to JD's Vegan, Dupri launched the brand exclusively through affordable chain Walmart. "It was always difficult to find vegan options for meals and especially, for desserts, when I first started on this journey," Dupri said. "JD's Vegan is very important to me because it allows me to create healthy dessert alternatives for vegans and non-vegans alike. I am hoping to continue building JD's Vegan to create a brand that continues encouraging a healthier lifestyle and offering more dessert options that people can indulge in with all natural ingredients and without all the guilt."
And while the legendary producer has already put his unique mark on both the music and ice cream industry, Dupri is not stopping anytime soon with plans to expand JD's Vegan already in play. "I have many exciting plans and projects in the works for JD's Vegan as a whole," Dupri said. "As far as flavors, I am working to continue creating unique flavors that are brand new to the ice cream industry."
For the latest vegan news, read:
Kourtney Kardashian and Travis Barker Reveal Their Favorite Vegan Dishes
Plant-Based Meat Is Healthier and More Sustainable, Research Finds
A World War II Era Hot Dog Stand Is Back With Vegan Options
Happy birthday, VegNews! To celebrate, we're having a mega subscription sale—complete with incredible vegan prizes.
Happy birthday, VegNews! To celebrate, we're having a mega subscription sale—complete with incredible vegan prizes.