"Simple but good." This guiding principle is evident from the moment we step into Jackson Heights' Angel Indian Restaurant, where the small dining room is almost bare of decoration. Until our food arrives at the table, the most eye-catching sights – just barely visible above the tall partition that screens the seating area from the open kitchen – are the flames that leap from a pan as chef and owner Amrit Pal Singh puts the finishing touches to our meal.
It's unlikely that the flames leapt quite as high at home in Pathankot, a city in the northern Indian state of Punjab, where Amrit was born in the mid-1980s. (Even today, few home kitchens are outfitted with a high-powered commercial stovetop and ventilation system.)
Amrit's mother was, and is, vegetarian, while his father – a former military officer who learned to cook in the army, after a fashion – is not. Amrit recalls that while his father was permitted to prepare non-vegetarian dishes at home, he was also required to clean away all traces of meat afterward.
Unlike much of the Indian food one can find in New York, Amrit continues, his "mother's kitchen" disdained heavy cream and excessive spice as well as meat, to preserve the "original taste" of eggplant, or cauliflower, or whatever vegetables might be at hand on a given day.
For Amrit, new menu items have always been taste-tested at home.
After completing his secondary-school education in India, Amrit pursued a formal culinary education in Australia, first in school – where, he recalls, he often disagreed with his instructors but for schooling's sake toed the line – and then in practical, on-the-job training. His younger brother followed a similar path, and today runs two restaurants of his own in Sydney. Their father and mother now live there, too.
Amrit himself, however, didn't follow his fortune Down Under. His wife wanted to live near her mother as the young couple started a family, and in 2013, they moved to the United States, and to Jackson Heights. For decades, the neighborhood had been well-known for its Indian restaurants, markets and sweet shops, although even then a growing number of businesses were Bangladeshi, Pakistani, Tibetan and Nepali.
Amrit worked for two years at a local Indian restaurant, and he ate widely in the neighborhood, but he felt that "no one [had] passion" for Indian cooking. Although some of these restaurants were financially successful, "this [was] not Indian food," he says.
At his next job, in a Manhattan restaurant, Amrit happened to meet someone who did have that passion: Chintan Pandya, then an up-and-coming young chef. Pandya hired Amrit to cook at his Indian bistro Rahi in the West Village, then brought him along to Queens when he opened Adda in Long Island City in the late summer of 2018.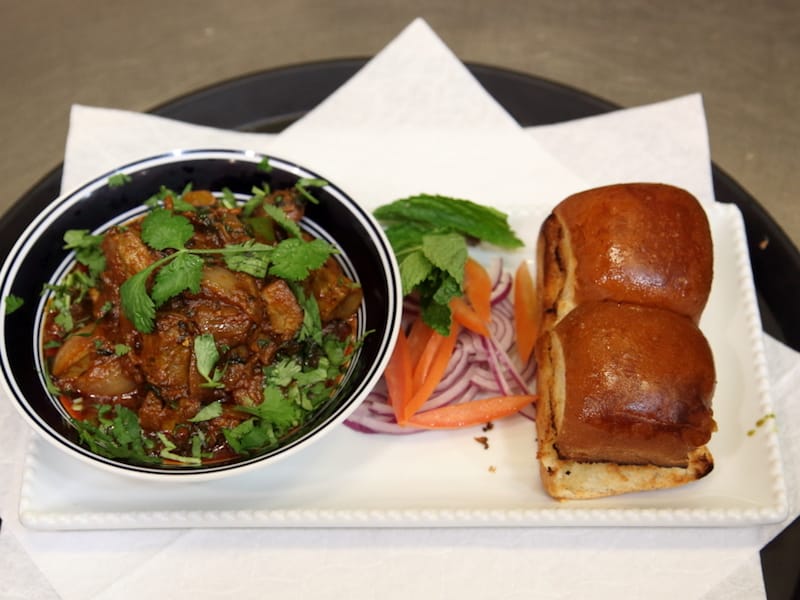 Adda received breathlessly enthusiastic reviews for a menu that was often described as home-style or canteen-style – and that perhaps we could also describe as "simple but good." After a year of cooking at Adda, Amrit invested "all my savings" in a restaurant of his own in a neighborhood that, he felt, was still lacking the Indian food he loved, for all its options.
Angel – named for Chef Amrit's young daughter – opened in Jackson Heights in October 2019. The restaurant enjoyed several months of celebrity, first as a restaurant whose chef had recently cooked at Adda, then on its own merits as an excellent halal vegetarian restaurant. We visited several times for the likes of dahi batata puri (yogurt and potato-filled wheat puffs), kale pakora (chickpea fritters), vegetable dum biryani (a slow-cooked mixed rice dish) and lassuni gobi – garlic cauliflower never tasted so good.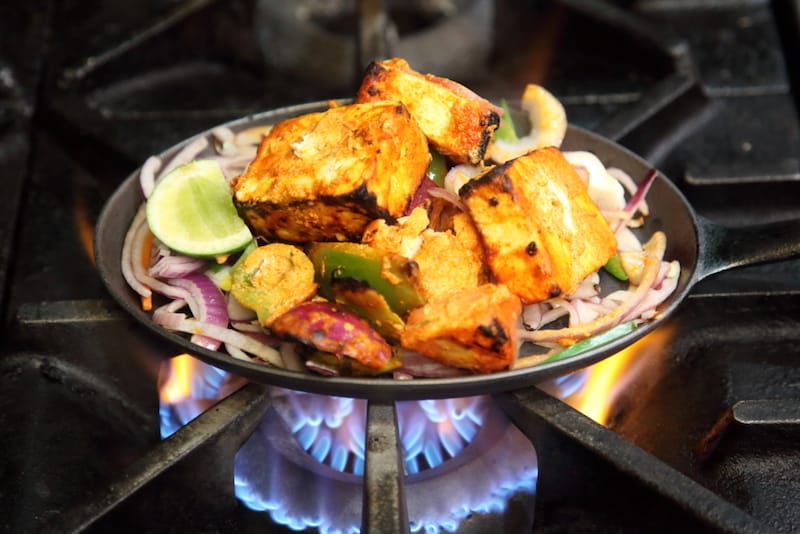 Then Covid hit Queens hard in March 2020. "My pocket [was] empty," Amrit laments. His restaurant was closed for several months, and he "didn't sleep well" until he started cooking more for his family – today a family of four, now that his daughter, Angel, has a younger brother – in their current home on Staten Island.
For Amrit, new menu items have always been taste-tested at home. "My family [and] my customers" eat the same food, he says. We're glad that Angel (his daughter) not only eats her vegetables but has a taste for goat and chicken, too. When Angel (the restaurant) ultimately reopened, the bill of fare incorporated meat; customer opinion came down two-to-one in favor of this change, Chef Amrit tells us. We included Angel on our list of Queens Best Bites in 2022, so there should be no question on where we stand.
During our most recent visit we ordered something from both sides of the menu. Chef Amrit's paneer tikka features squares of house-made cheese that have been marinated with yogurt, garlic and ginger, then skewered and cooked in a tandoor and finished on the stovetop.  His version of tawa kaleji reanimates chicken livers with chili powder and ginger in a frying pan – this was the dish responsible for the most prominent leaping flames – and offers them with a pair of toasted bread rolls called pav (pronounced "pow").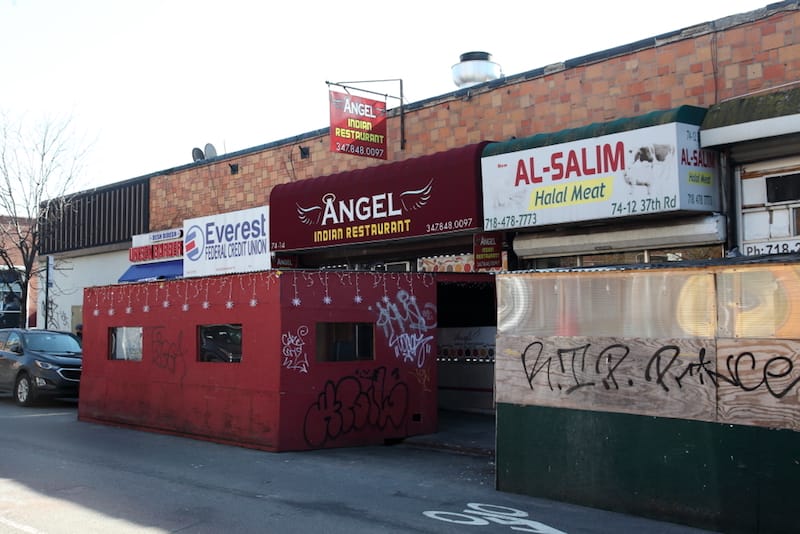 We probably would have asked for another pair of pav, to swab up surplus liquid from the fried livers, if we weren't also focused on dessert: suji ka halwa, a granular, nut-laced semolina pudding. This was a dish, Chef Amrit recalls, that his mother always made during the winter back home.
Things are returning to normal "slowly, slowly," Chef Amrit adds. The restaurant is bustling only on evenings and weekends. Even so, six days a week he arrives at 9:00 am for prep work, stays until he closes his doors at 10:00 pm (or earlier, sometimes, if there's no business), then drives to Staten Island, arriving home by midnight.
Inspectors for the prestigious Michelin guide have already judged his restaurant worthy of a "Bib Gourmand," one that offers good food and good value. It's a rare New York-based Indian restaurant to hold that distinction today. A Michelin star is my dream, Chef Amrit tells us. For a restaurant that might earn a star in years to come, what name is more fitting than Angel?
May 4, 2022 Super Heroes
Just about anyone raised in or around New York City – and who loves eating – can tell […] Posted in Queens
January 25, 2022 Bhanchha Ghar
Editor's Note: Since we wrote our story, the restaurant has shortened its name and […] Posted in Queens
January 19, 2022 Rincon Criollo
"Everything had to remain the same." In the dining room of Rincon Criollo, a Cuban […] Posted in Queens