Robert Rodriguez believes one of the keys to being successful in the restaurant business is the willingness to listen.
"We are always talking with our customers about our food," said Rodriguez, whose family owns and operates Mi Pueblo Mexican restaurants, the third of which recently opened at 1941 S. Yale Ave., taking over the building most recently occupied by Billy Sims Burgers.
"We want to know what they like, and things that they don't like so much," Rodriguez said. "It's always been our desire to give our customers what they want, instead of giving what we think they want. You really can't be successful if you close your mind to doing things only your way."
The Rodriguez family opened its first Mi Pueblo restaurant in Ponca City about 16 years ago.
"It did all right," Rodriguez said. "Then we opened another restaurant in Sand Springs, and it was so successful, we closed the Ponca City location."
The family later opened a location in Oklahoma City, but it had been thinking about having a Tulsa restaurant for a while.
"I knew of this location when it was a Taco Cabana, and every time I came by here, it looked very busy," Rodriguez said. "I saw that it had been empty for a while, so I got in touch with the owners to tell them I was interested in the location, that my family had a lot of experience in the business.
"This was right before the burger place opened, and the owners said they already had a client for the space," he said. "When it became available again, we got in touch with the owners first thing to let them know we were still interested."
The building has undergone a good deal of renovations and redecorating. The drive-through window is no more, the exterior has been painted yellow with orange accents, and the interior features a full bar as one enters.
In addition, the dining area is filled with tables and booths that have been custom-made for the restaurant. Brightly colored folk art-style paintings are under heavy layers of clear lacquer on the tables, while the chair backs have carved Mexican vignettes that are equally colorful. The booths are adorned with carvings and the restaurant's name.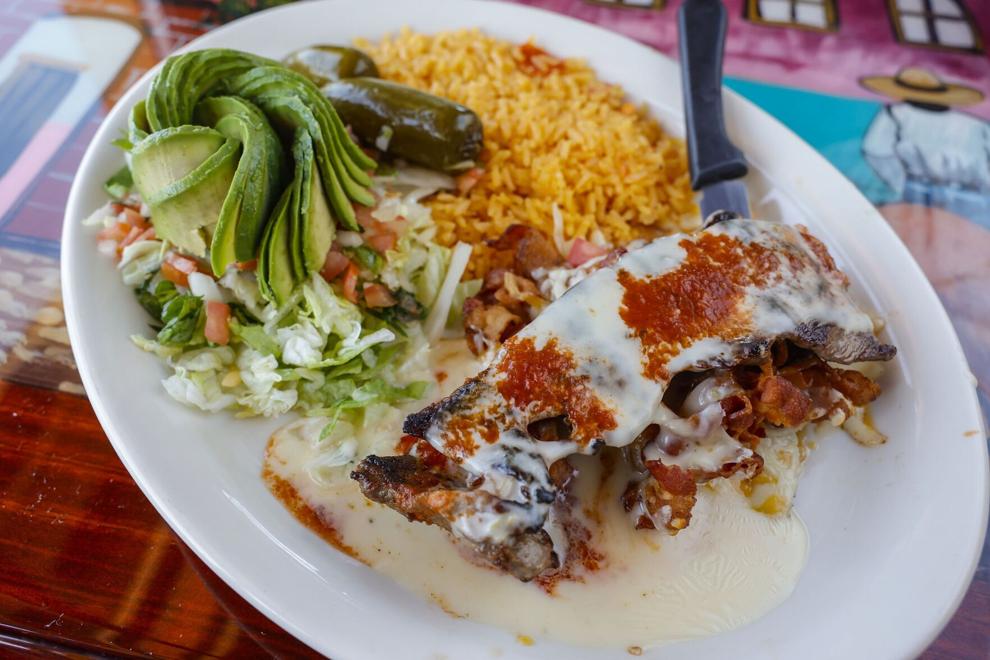 "We have these at all our restaurants, and they are custom-made for us at a factory in Mexico," Rodriguez said, who is the general manager for the Tulsa location. "It usually takes about three months to make them."
Mi Pueblo's menu is the same as that found at the other locations and features a wide range of dishes that Rodriguez described as popular Tex-Mex offerings, as well as "real, authentic Mexican dishes."
Among the authentic dishes are the quesabirria tacos, slow-cooked beef folded with cheese into corn tortillas and grilled on the flat-top ($11.99); the burrito picoso ($11.99), filled with chuck roast and whole beans cooked in a jalapeño gravy; and the Juanito's Special, a thin sirloin steak that is grilled and rolled around crispy pieces of bacon and cheese, then topped with Mi Pueblo's red sauce and cheese sauce.
We were able to sample Juanito's Special during the photo shoot for this article. The steak was cooked through yet still tender, and well-seasoned, and the blend of the earthy red and the creamy cheese sauce worked well.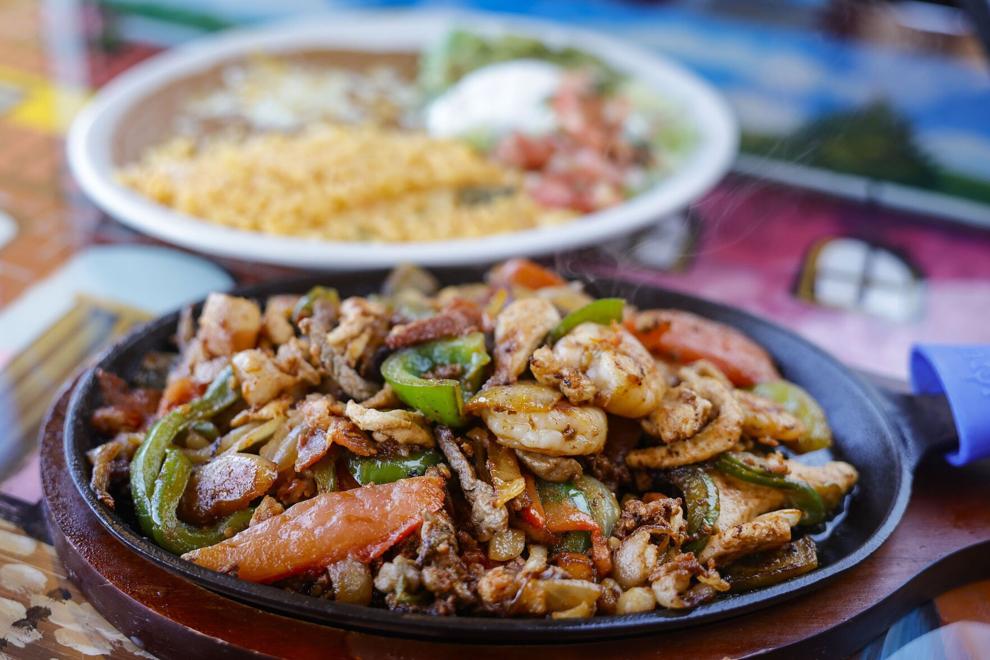 We also sampled another dish with the word "special" in its name: the Special Dinner ($13.99), which included a full array of Tex-Mex items: beef taco, chalupa, chile relleno, tamale and shredded beef enchilada. It came with sides of refried beans and rice.
Perhaps the most special thing about this dish was that it took two plates to contain it. At first I thought both plates included servings of beans, but that was the chalupa, a flat, crisp corn tortilla evenly spread with refried beans. I was not certain if the chopped tomato, shredded lettuce, crumbly cheese and scoop of guacamole were considered toppings for the chalupa, or a sort of side salad. Regardless, it was not something one could easily negotiate without implements.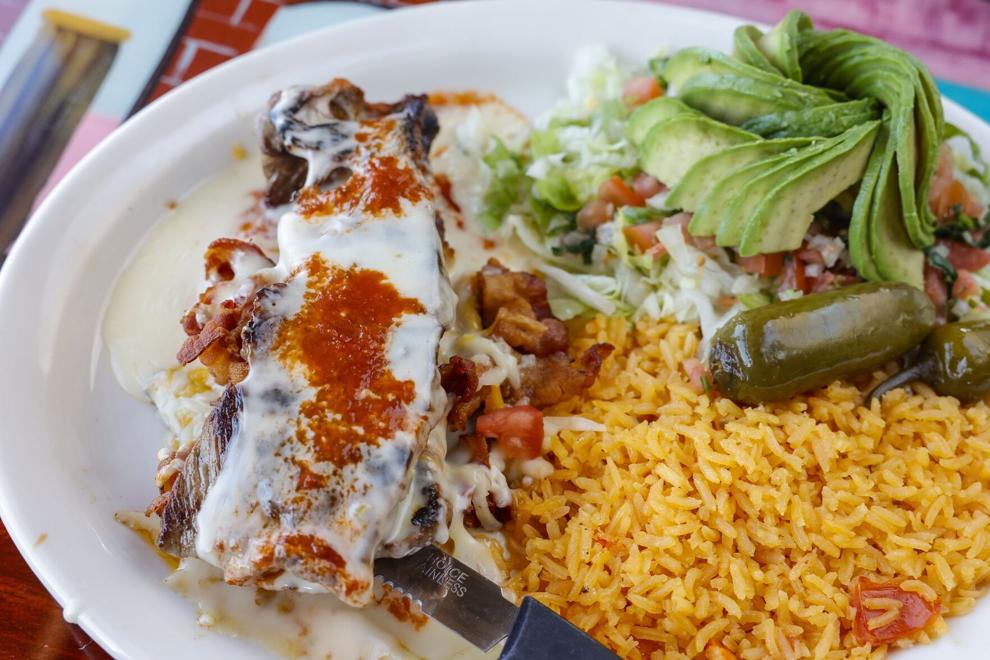 The relleno was a large, skinned poblano pepper in a thick, doughy breading, stuffed with white cheese that melted into a sauce-like consistency. The tamale seemed to be encased with a similar coating — the taste was more bread-like than might be expected. The enchilada's filling was mildly seasoned; we requested the red sauce rather than cheese sauce, and that gave it a little more complexity.
The taco was well-stuffed with shredded white cheese and ground beef, although the beef was not hot enough to melt the cheese, which was a little surprising.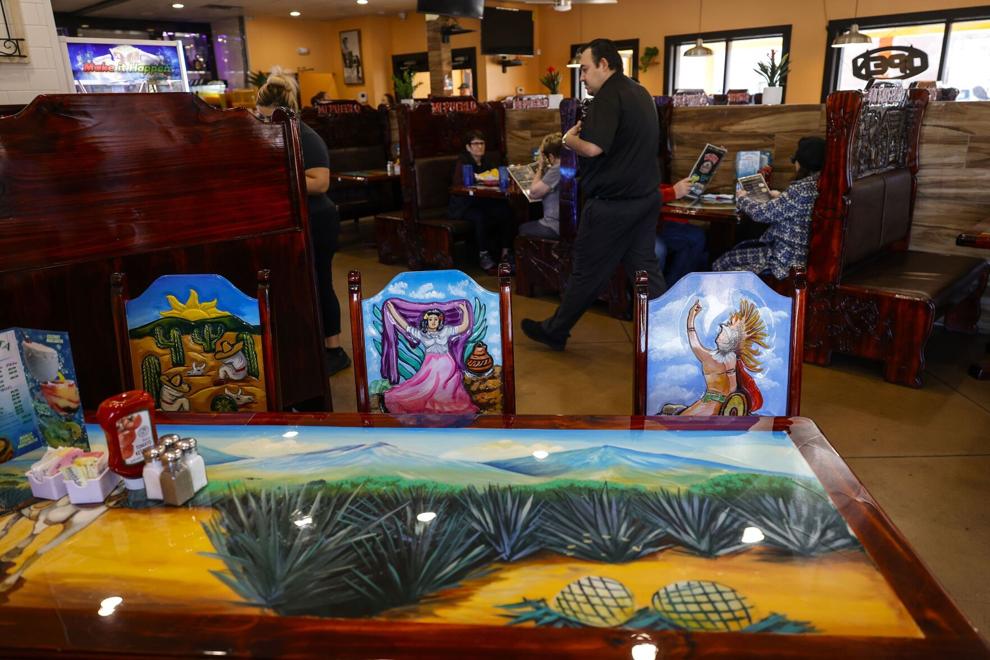 At another visit, we tried the Degollado Garlic Shrimp ($13.99), which included more than a dozen medium shrimp cooked in a garlic butter sauce. It came with rice, which was greatly improved by the additonal garlic butter, and pico de gallo-lettuce-guacamole combination, as well as three hot flour tortillas. The shrimp were perfectly cooked, the garlic just pungent enough to provide a burst of flavor.
Warm, unsalted tortilla chips and carafes of salsa with visible chunks of onion and cilantro are complimentary.
Rodriguez said he is pleased to see that the Tulsa restaurant seems to be drawing Hispanic and Anglo customers in equal numbers.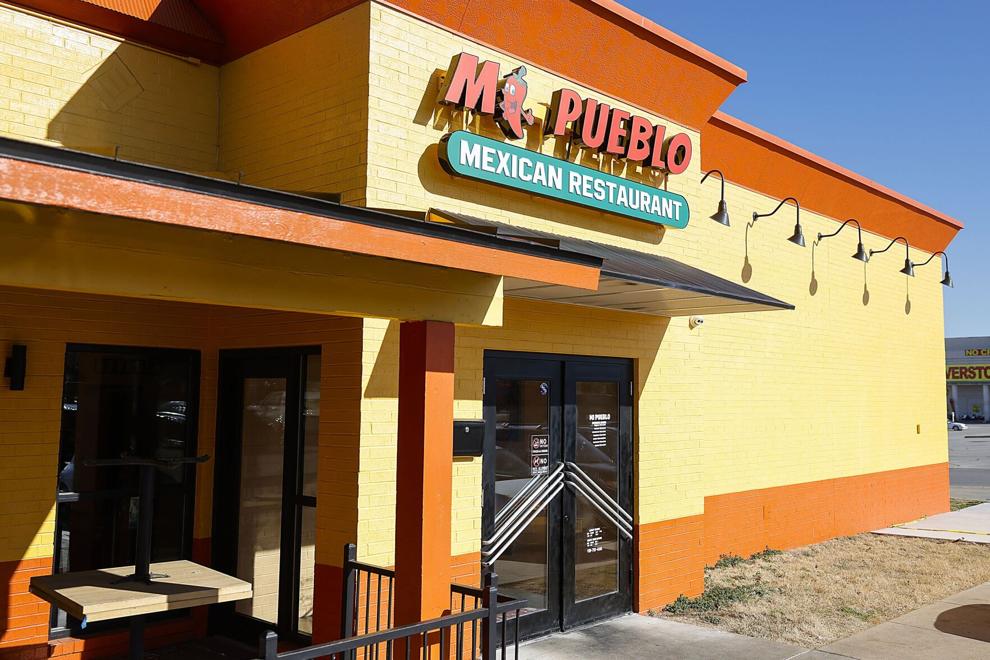 "To me, that says we are doing what we want to do, which is have items that appeal to everyone," he said.
Although he has noticed one unusual regional variation.
"Our customers in Tulsa seem to really like our white queso," he said. "I don't really know why, but in Oklahoma City, they want their queso to be yellow. So that's what we serve in Oklahoma City."