Reviews and recommendations are unbiased and products are independently selected. Postmedia may earn an affiliate commission from purchases made through links on this page.
Article content
Iskender Doner Kebab House
1750 Innes Rd., 613-321-1700
Open: Sunday to Thursday 10:30 a.m. to 9 p.m., Friday and Saturday 10:30 a.m. to 9:30 p.m.
Prices: shawarma and kebab platters $17.60 to $22.99
Access: no steps to front door
Article content
Tava Kitchen
7B Kakulu Rd., 613-435-7888, tava.kitchen
Open: Wednesday to Sunday 11 a.m. to 6 p.m., closed Monday, Tuesday
Prices: pide flatbreads $9.99 to $15.99
Access: small step at entrance
Article content
It used to be that Ottawa's suburbs and their strip malls were starkly short of alluring dining destinations when compared to the downtown core. How could Hazeldean Road in Kanata or Longfields Drive in Barrhaven possibly stack up against Preston Street or Elgin Street or Wellington Street West's restaurant row?
But in the decade that I've been writing about the city's restaurants, dining on Ottawa's outskirts has grown a lot more interesting, especially when it comes to the breadth of cuisines on offer. While fine dining in the suburbs is still scarce, there are increasingly more hidden, and more affordable, gems. For starters, I'm thinking of Tirweka, the top-notch Middle Eastern breakfast and brunch place I found on Hazeldean Road this year, or  Khokha Eatery, the tiny but potent Pakistani spot on Longfields Drive that opened last year. For downtowners, both are worth the drive.
Article content
And then there are the modest but quite appealing Turkish food businesses I tried this month.
First, there's Iskender Doner Kebab House, which opened a few months ago in an Innes Road strip mall. It looks pretty generic inside, like the former fast-food place that must have been there, but now with scenic posters of Turkey on the walls. But I would choose Iskender over its neighbouring chain eateries for several reasons.
One is its namesake dish, the Iskender ($22.99), or the Iskender kebab, if you go by its Wikipedia entry. It consists of sliced doner kebab meat topped with a rich tomato sauce, over pieces of pita bread, with a giant dollop of plain yogurt on the side.
In Turkey, this former regional specialty has become a national favourite, and I could taste why based on what I ate on Innes Road. The meat had character, the tomato sauce was rich, and the absorbent pita was something special, while the yogurt was creamy but refreshing.
Article content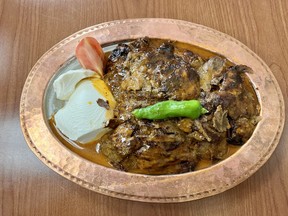 (Side note: Wolf Down on Bank Street and Elgin Street's German Doner Kebab, an international franchise operation, serve doner kebabs inspired by the Turkish fast food served in Berlin, and hardcore fans of these places may wish to sample Iskender's Turkish-style beef shawarma for comparison's sake.)
Iskender also made impressive char-grilled kebabs (both $17.99 for platters), including exceptionally moist and nicely flavoured chicken kebabs and the somewhat spicy Adana kebabs of ground veal and lamb, named after the South-Eastern Turkish province.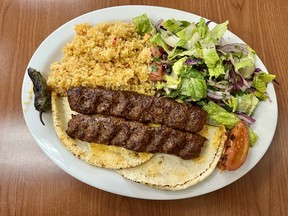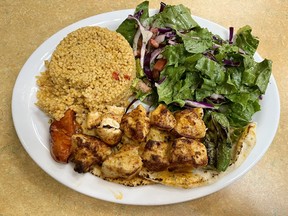 Our platters, which featured halal meats, came with different and impressively made accompaniments. For me, the only component that did not top similar items elsewhere was the garlic sauce accompanying my chicken shawarma plate. It was more sweet than garlicky to my palate.
Article content
This week, I brought home various Turkish pide (boat-shaped flatbreads with various toppings, which have been likened to pizzas) from Tava Kitchen, which opened in the summer of 2021 in an out-of-the way Kanata strip mall.
Previously, I've happily had pide at the cut-above Turkish-Mediterranean restaurant Pita Bell on Carling Avenue, and the three pide from Tava's chef-owner Fatih Anderoglu were certainly at least as good. (Again, some A/B testing is in order.)
At Tava, an attractive but tiny takeout-geared place with two stools at its counter, Anderoglu makes 14 kinds of pide ranging in price from $9.99 to $14.99.
The pide (pronounced "peedeh," I'm told) starring ground beef and a five-cheese blend brought in from Montreal ($11.99) was generously stuffed and savoury. More mild but still pleasantly salty was the spinach and cheese pide ($12.99). Aficionados of Middle Eastern/Mediterranean cured meats will want to try the "Deli pide" ($15.99), which stars the distinctly funky air-cured beef products sujuk and pastirma.
Article content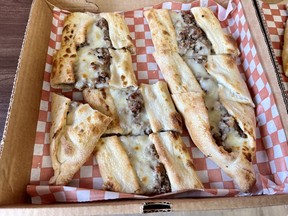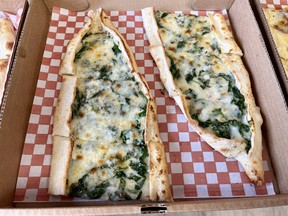 I am kicking myself for failing in my haste to order Tava's Antep pistachio dolama ($6.99), a baklava-adjacent dessert which should feature premium pistachios in the embrace of phyllo pastry, but with clotted cream included and an ice cream topping.
I did take home some Montreal-made pistachio baklava from Iskender and I thought they were excellent. Tava may well sell the same highly regarded baklava.
Google Maps suggests to me that Tava might benefit from the proximity of the Anatolian Cultural Centre Ottawa, also in Kanata South. Further searching shows that Ottawa has an Istanbul Food Mart that opened in Kanata in 2021, and another Istanbul Food Mart location that opened in Gloucester on Montreal Road this summer.
That business's third location is planned for Orléans, which I should note is home to the Little Turkish Village restaurant, a three-decades-old restaurant that this newspaper last reviewed in 2001.
It seems like I should be sampling, sooner rather than later, some old and new Turkish delights in the suburbs.