There are so many benefits of cooking a delicious, healthy meal for yourself. Not only does it allow you to stay in control of exactly what goes into your body, but it can often be a fun, relaxing experience. On the other hand, it can also be time-consuming and laborious—especially if there are tons of dishes involved. That's where one-pot pasta recipes can be such a life-saver! If you find yourself low on time and energy, there's no better solution than to whip up a big pot of veggie-loaded pasta. The recipes we've gathered in this article will last you all week and give you the fuel you need to burn calories and shed pounds.
While pasta may not be the first thing that comes to mind when you think of the best dinner options for weight loss, these low-calorie one-pot recipes will prove you wrong. They're perfect for packing in vegetables, staying fuller longer, and, of course, enjoying fantastic flavors.
Win $275 worth of hair products!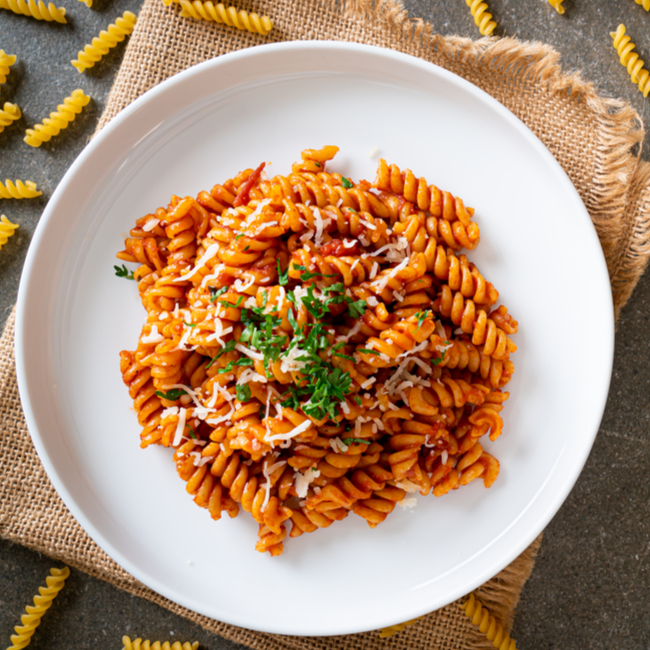 One-pot tomato basil pasta
Tomato and basil are a pasta match made in heaven. When you throw in some greens, parmesan cheese, and ample seasoning, you've got yourself a delicious and healthy weeknight dinner. Plus, using whole-wheat rotini pasta ensures you won't be packing in those highly processed grains that come along with a lot of pasta dishes. This recipe is tasty and guilt free!
Ingredients: whole-wheat rotini, water, low-sodium "no-chicken" broth or chicken broth, no-salt-added diced tomatoes, extra-virgin olive oil, Italian seasoning, onion powder, garlic powder, salt, crushed red pepper, baby kale or baby spinach, basil, Parmesan cheese
One-pot brown rice veggie pasta
Here's another brown rice veggie pasta that's perfect for aiding your weight loss—and this one is jam-packed with healthy veggies! The tasty broccoli, mushrooms, tomatoes, and spinach will keep you fuller longer so that you're not craving a fattening dessert later in the evening. And with minimal clean-up thanks to the fact that you can cook this meal with just one pot, what's not to love?
Ingredients: Olive oil, yellow onion, garlic, brown rice fusilli pasta, broccoli, mushrooms, tomatoes, pasta sauce, stock, salt, pepper, oregano, red pepper flakes, spinach, parmesan
One-pot spinach, chicken sausage, and feta pasta
This Greek pasta recipe is equal parts delicious and healthy! With protein-packed chicken sausage, fibrous whole-wheat pasta, fresh veggies like tomatoes and spinach, and feta and olives to pull all the flavors together, this one-pot meal will never steer your taste buds or your body wrong.  It's so simple and so delectable!
Ingredients: olive oil, cooked chicken sausage, diced onion, minced garlic, no-salt-added tomato sauce, baby spinach, whole-wheat rotini pasta, chopped pitted Kalamata olives, feta cheese, fresh basil
One-pot pesto pasta primavera
Who doesn't love pesto? This one-pot pesto pasta primavera recipe combines this fan-favorite with healthy vegetables like asparagus and snap peas—or any other addition your heart and taste buds desire! It's light enough to eat all week and perfect for enjoying during the warmer months while you work towards your slim summer figure.
Ingredients: short pasta like penne, olive oil, garlic, asparagus, sugar snap peas, frozen peas, green onions, salt, black pepper, basil pesto, goat cheese crumbles, lemon zest, basil and/or mint, parmesan