Ingredients
2 tbsp vegetable oil
1 onion, finely sliced
1 green chilli, finely sliced
2 tbsp ginger garlic paste
2 tbsp mild curry powder
1 tsp ground turmeric
½ tsp ground coriander
500g plum tomatoes, chopped
250g cooked beetroot, chopped
400ml tin coconut milk
1 tbsp tamarind paste
100g baby spinach
Handful coriander leaves, chopped
1 lime, cut into wedges, to serve (optional)
Flatbreads or rice to serve
Method
Heat the oil in a large saucepan over a low-medium heat. Tip in the onion and chilli and cook slowly for 10-12 minutes, stirring occasionally, until soft. Add the ginger garlic paste and dried spices and cook for a few more minutes, stirring often.
Add the tomatoes and cook for 2 minutes, then add the cooked beetroot and coconut milk and simmer for 15 minutes. Stir in the tamarind, spinach and half of the chopped coriander and simmer for a final 5 minutes.
Divide among bowls and sprinkle over the remaining coriander. Serve with wedges of lime on the side (if using) and rice or flatbreads.
delicious. tips
Don't be tempted to rush the onions – cooking them slowly not only changes the flavour into something sweet and caramelised, but softens them almost into a paste, which will give your curry body. Cooking the dry spices out for a couple of minutes before adding liquid is also an important step otherwise the dish will taste of raw, powdered spices.
Subscribe to our magazine
Subscribe to delicious. magazine for HALF PRICE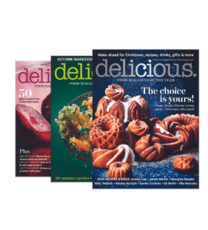 Unleash your inner chef
Join newsletter for latest recipes, offers and more, PLUS 8 instant tips
Lost my password
Enter the email address associated with your
account, and we'll send you a link to reset your
password.
Email sent
If an account was found for this email address,
we've emailed you instructions to reset your
password.
Thank you for signing up to our newsletter
Now you can stay up to date with all the latest news, recipes and offers.
Subscribe to our magazine
Subscribe to delicious. today for just £13.50 – that's HALF PRICE!
Confirmation
We have sent you an activation link,
please click this link to activate your account.