Delish editors handpick every product we feature. We may earn commission from the links on this page.
1
Oscar Wilde NYC (Flatiron)
Oscar Wilde has some of the best Christmas decorations in the city. The Victorian-style spot gets extra festive with lights, ornaments, garlands, and life-sized stuffed polar bears. If you want to get cozy by a fire, some of their cocktails are set aflame.
PLAN A TRIP 45 W 27th St, New York, NY 10001
2
Loreley Beer Garden (Lower East Side)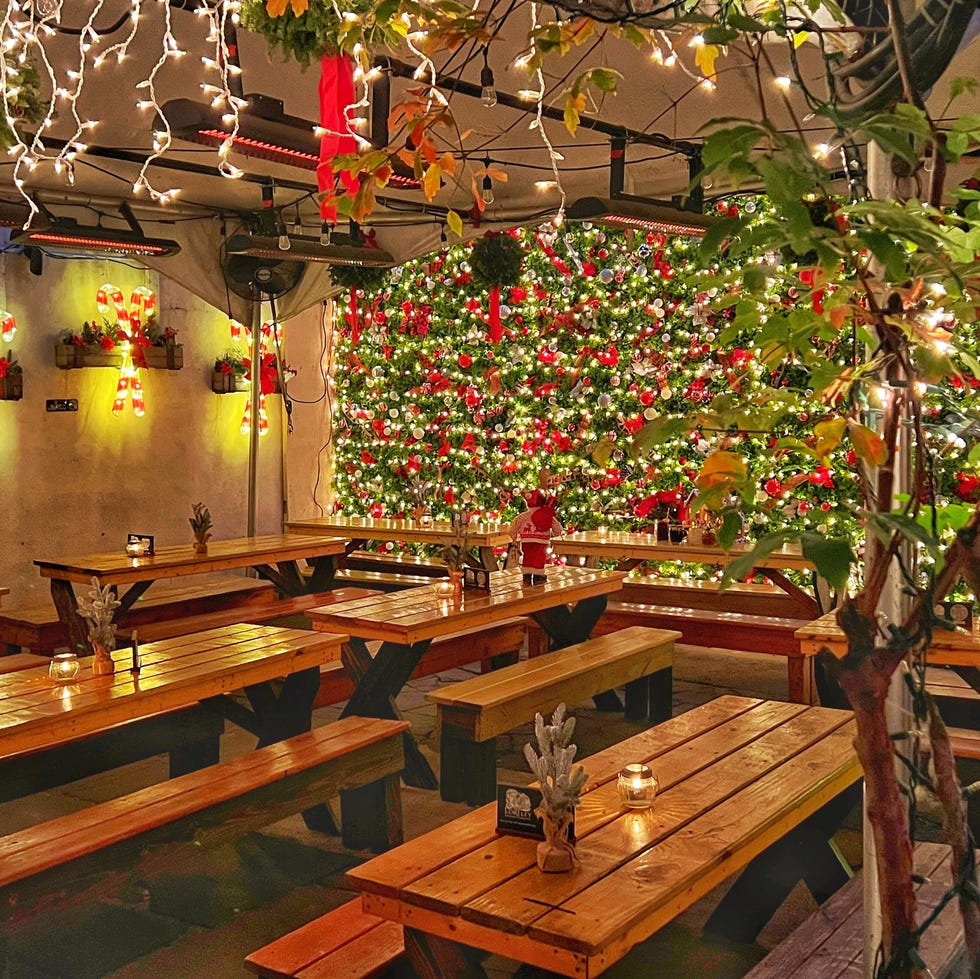 One of the most popular spots to grab a drink in downtown Manhattan is getting a festive facelift this holiday season. Loreley Beer Garden is offering a lineup of holiday cocktails like bourbon hot chocolate and mulled wine alongside plenty of seasonal craft beers. And if you still want the beer garden experience, their outdoor patio is heated.
PLAN A TRIP 7 Rivington St, New York, NY 10002
3
Santa's Winter Wonderland At Watermark (Seaport)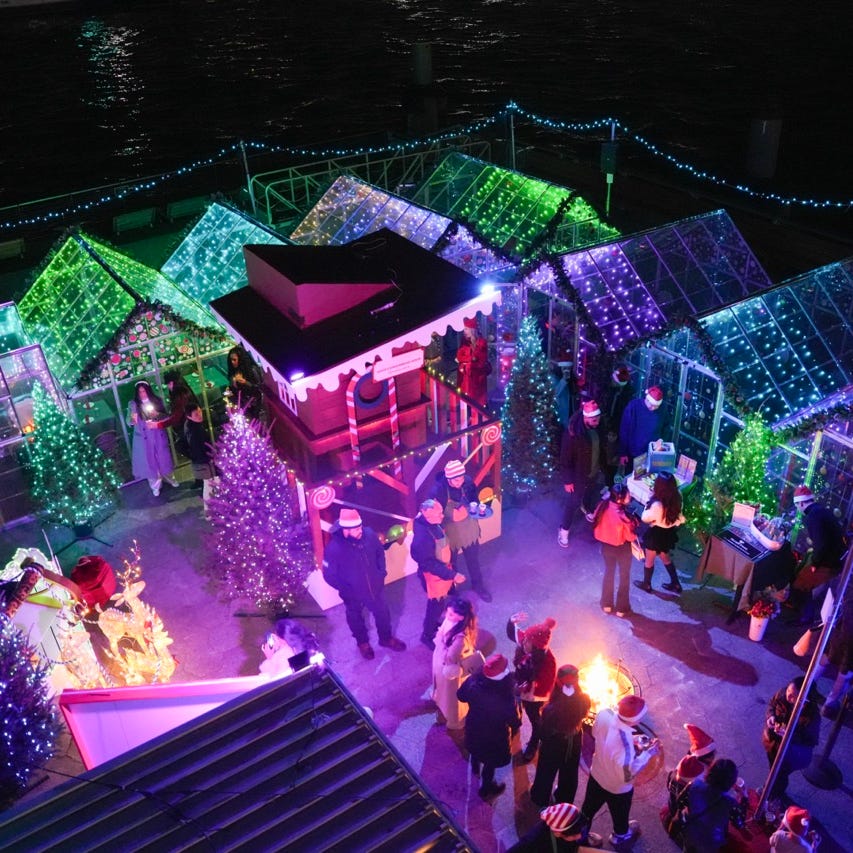 Located right on Pier 15 at the bottom of Manhattan is Watermark, an outdoor bar and restaurant that spans a whopping 10,000 feet. But before you worry about sitting out in the cold, Watermark is transforming the space into Santa's Winter Wonderland. This pop-up features heated glass houses right on the East River, plenty of festive snacks and drinks, and the chance to snap a photo with Santa himself.
PLAN A TRIP 78 South St Pier 15, New York, NY 10038
Advertisement – Continue Reading Below
4
Tinseltown (Upper West Side)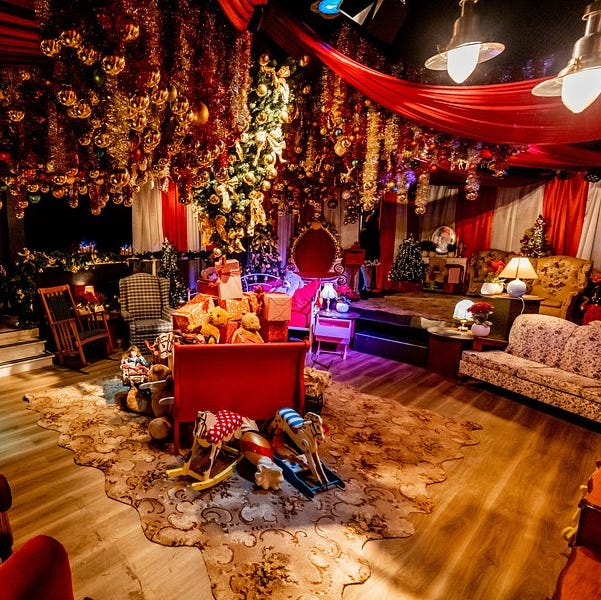 Upper West Side restaurant Pekarna is getting into the holiday spirit with its Tinseltown pop-up! This dedicated Christmas bar plays your favorite festive tunes, serves jolly cocktails and mocktails, and features plenty of tinsel, naturally.
PLAN A TRIP 594 Amsterdam Ave, New York, NY 10024
5
Pete's Tavern (Union Square)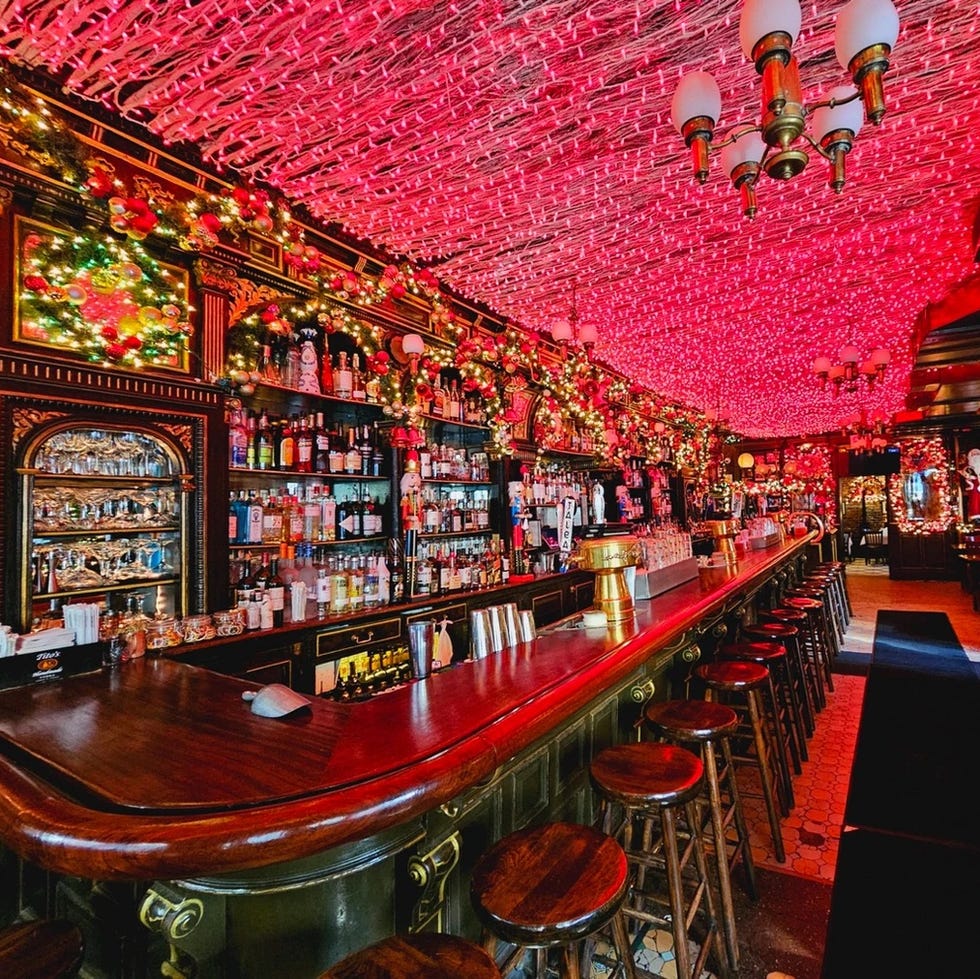 Pete's Tavern has been around since 1864, so it's the place to be if you want some time-honored holiday cheer. The bar is known for surviving Prohibition by disguising itself as a flower shop and for its stunning Christmas decorations.
PLAN A TRIP 129 E 18th St, New York, NY 10003
6
Miracle on 9th Street at The Cabinet (East Village)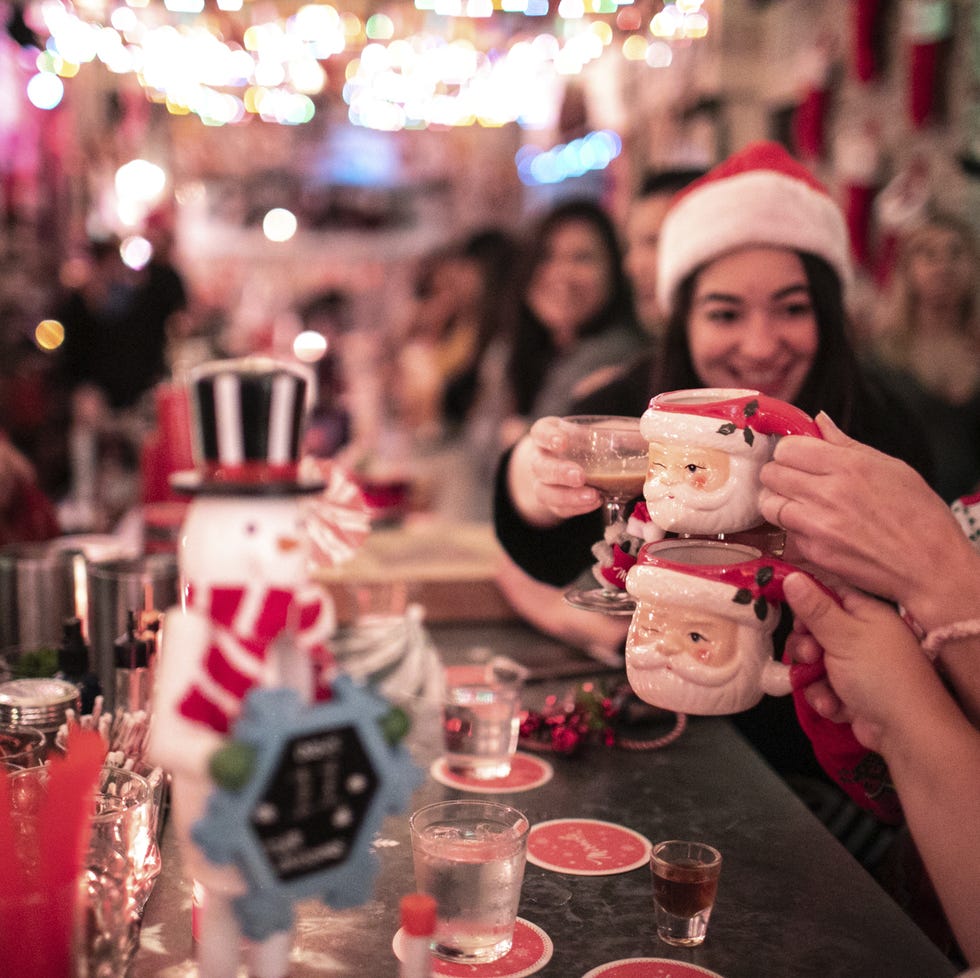 Starting November 18, sleek cocktail bar The Cabinet transforms into a festively decorated spot sure to put any Scrooge in the holiday spirit. The vintage Santa mugs and decorations make us think Clark Griswold had a hand in decorating this famous New York pop-up, and we are totally here for it. Although cousin Eddie and the fam aren't expected, you can expect inventive craft cocktails with a seasonal twist and a jolly good time.
PLAN A TRIP 649 E 9th St, New York, NY 10009
Advertisement – Continue Reading Below
7
Sleyenda at Leyenda (Cobble Hill, Brooklyn)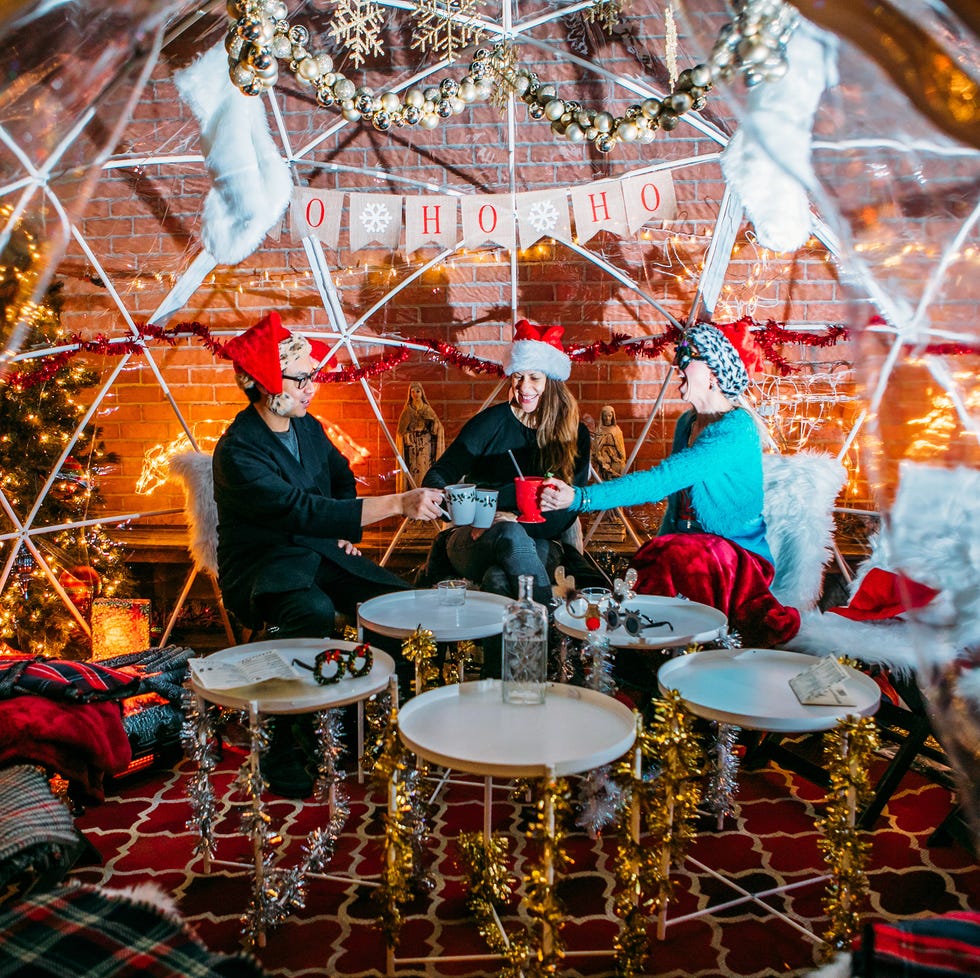 One of the best holiday-themed bars in Brooklyn is Leyenda's annual celebration, Sleyenda. On top of some of their classic Christmas cocktails like Coquito Ho Ho Ho, they've added some new showstoppers like the frozen Candy Striper.
PLAN A TRIP 221 Smith St, Brooklyn, NY 11201
8
A Foxtail Winter Wonderland (SoHo)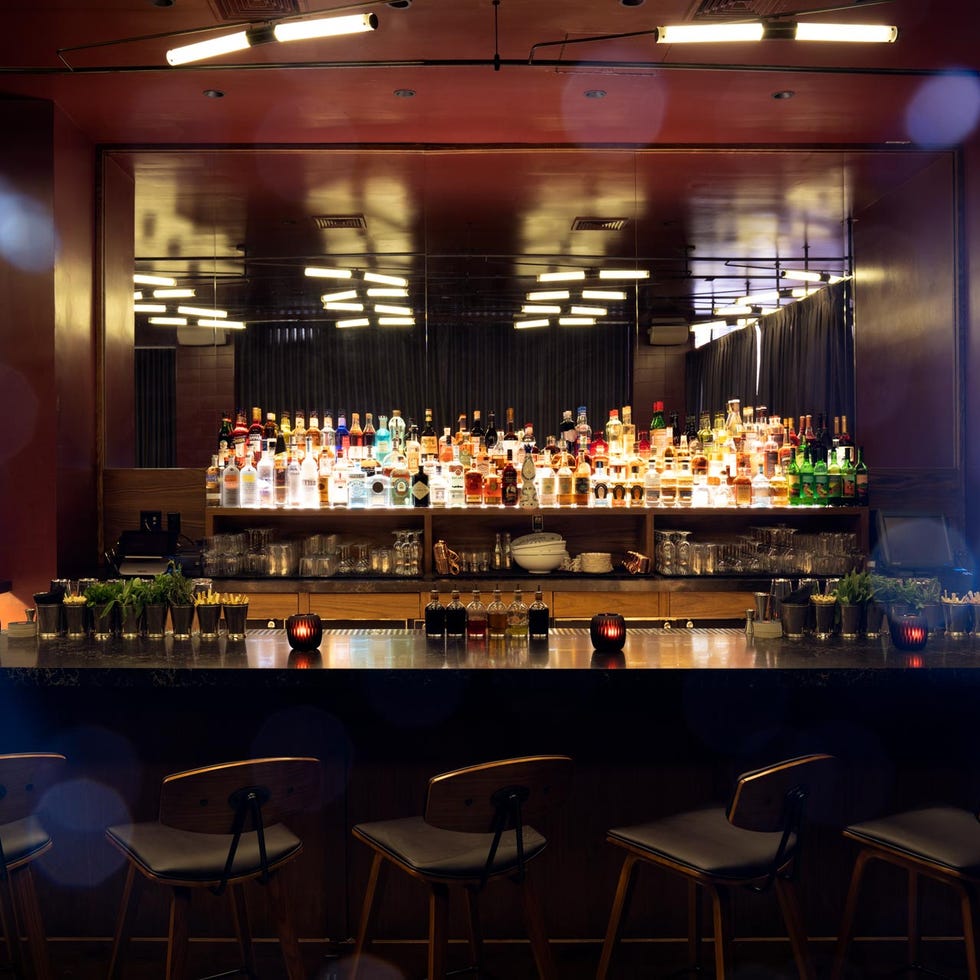 If your idea of a happy holiday is on the swankier side, then you need to visit Foxtail's holiday pop-up located on the ground floor of Arlo SoHo. This speakeasy-style cocktail bar is offering plenty of Christmas-themed cocktails like the Foxy Toddy, Honey Baked Apple, and Peppermint Cane.
PLAN A TRIP 231 Hudson St Lobby Level, 231 Hudson St, New York, NY 10013
9
The Lodge at Bryant Park (Midtown)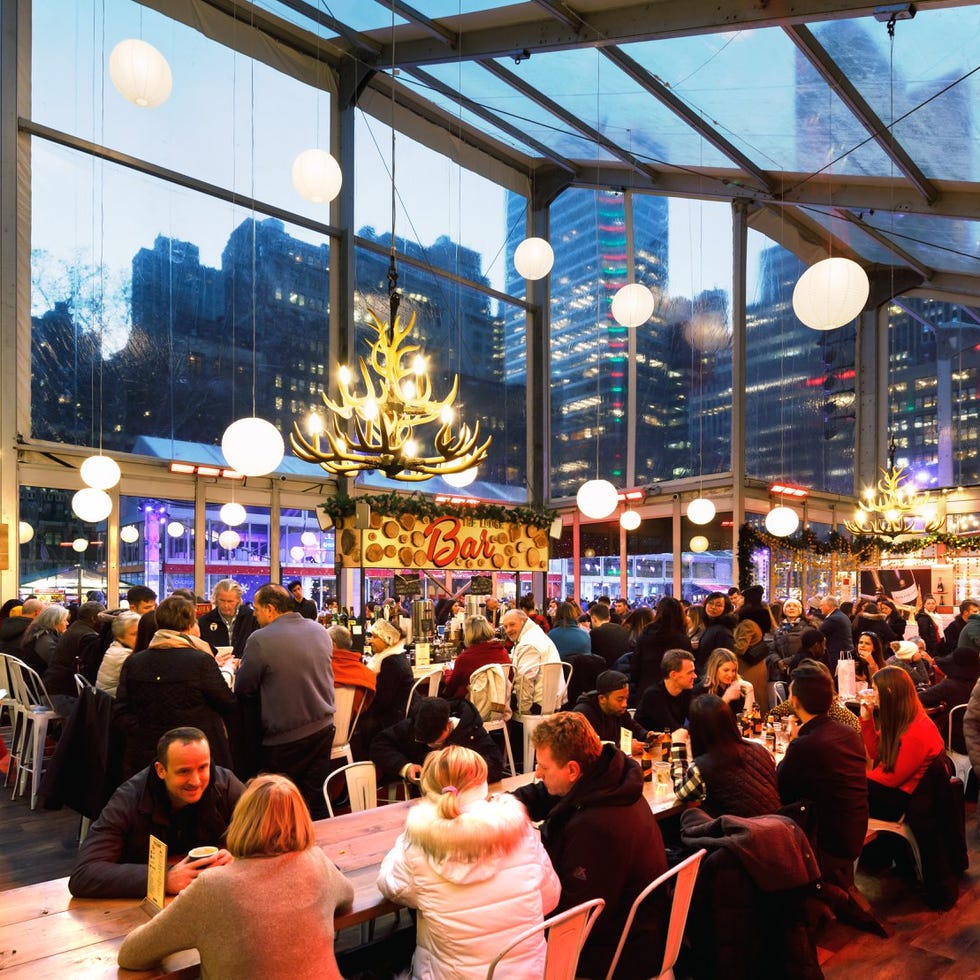 Just off the park's rink, the Lodge is filled with eating and drinking options to satisfy your appetite and quench the thirst you worked up from the triple axels you were throwing on the ice. The enclosed space is filled with a variety of eateries that flank a fully stocked cocktail bar ready to pour you something strong enough to help you forget you didn't actually stick all those landings. When you're finally full, and maybe a little tipsy, take a stroll through the holiday market and tackle all of your Christmas shopping.
PLAN A TRIP Bryant Park
Advertisement – Continue Reading Below
10
King Cole Bar at The St. Regis (Midtown)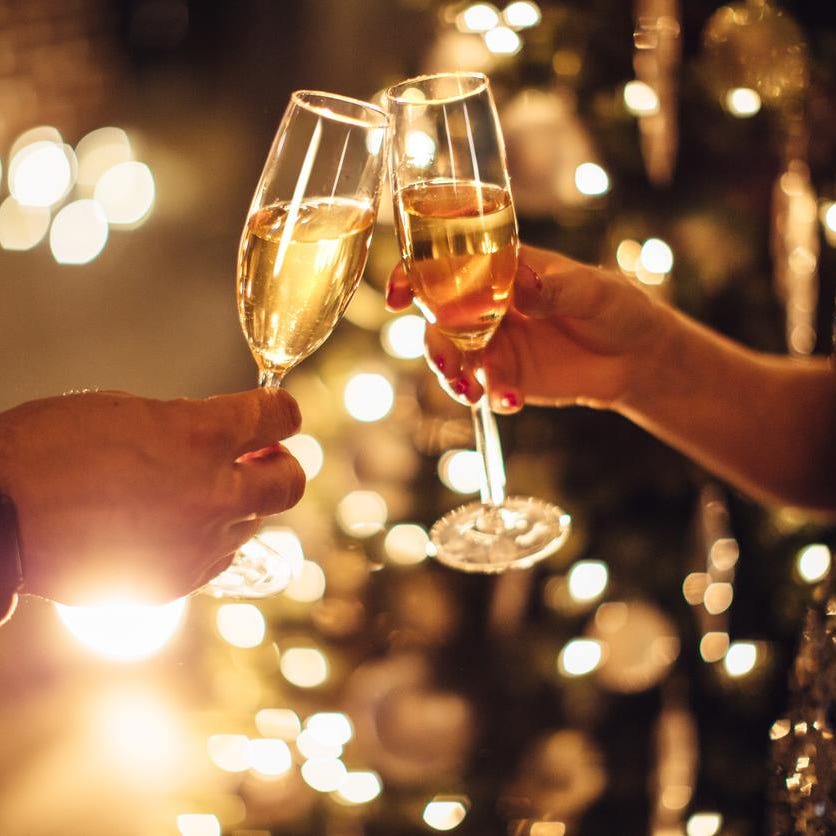 For a true "treat yourself" experience this holiday season, pay a visit to King Cole Bar at the St. Regis, where you can sample high-end bubbles in an iconic New York destination. They offer an extensive hot chocolate menu where you can choose from five different kinds of chocolate and spike it with your choice of alcohol. Plus, they come with over-the-top garnishes like peppermint bark, churros, and biscotti.
PLAN A TRIP 2 East 55th Street At, 5th Ave, New York, NY 10022
11
The Après Skate Chalets presented by Balsam Hill (Midtown)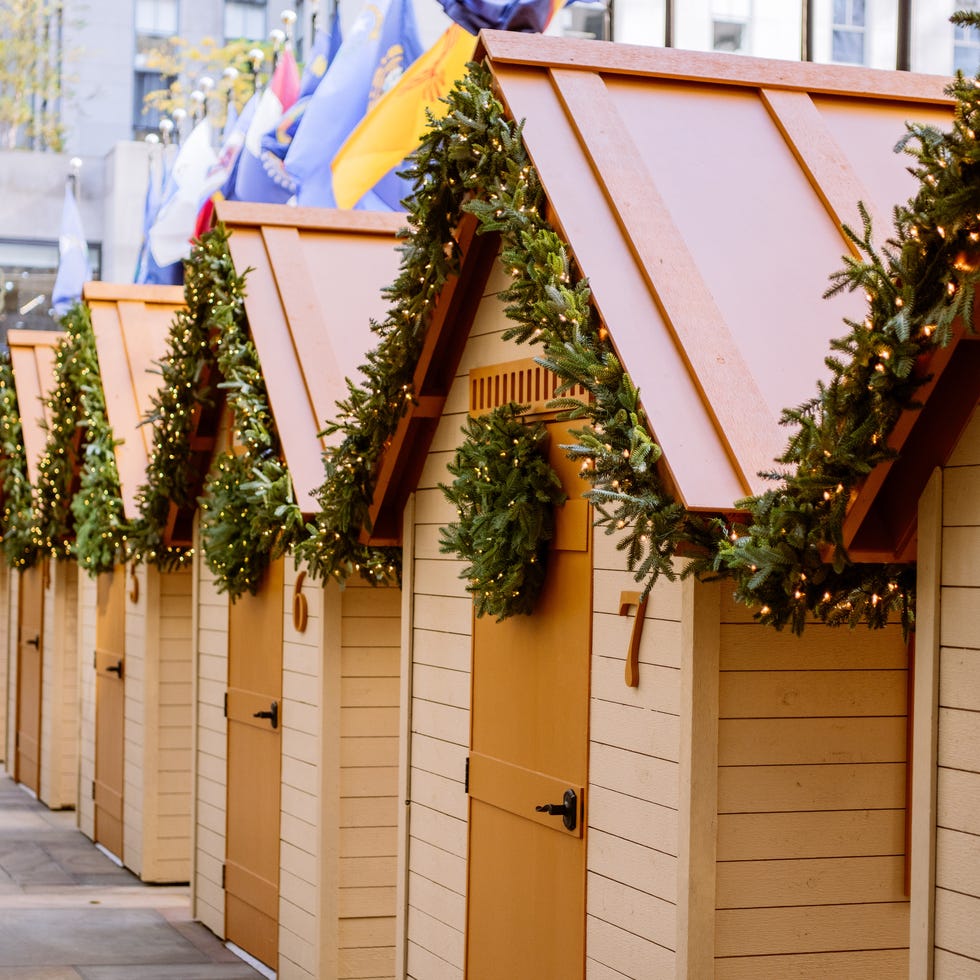 Few New York City Christmas experiences are as iconic as visiting Rockefeller Center. As much as we love looking at the giant tree or ice skating at the rink, our favorite way to celebrate is with a cocktail. These Après Skate Chalets are located right on the rink and offer fun beverages (including a seasonal beer lineup from Other Half Brewery).
Reservations for a private chalet are currently booked for the season, but keep an eye out for potential new time slots. You can also enjoy the same snack and treats to-go for walk-in guests.
PLAN A TRIP 45 Rockefeller Plaza, New York, NY 10111
12
Grinchy's At Roberta's (Bushwick, Brooklyn)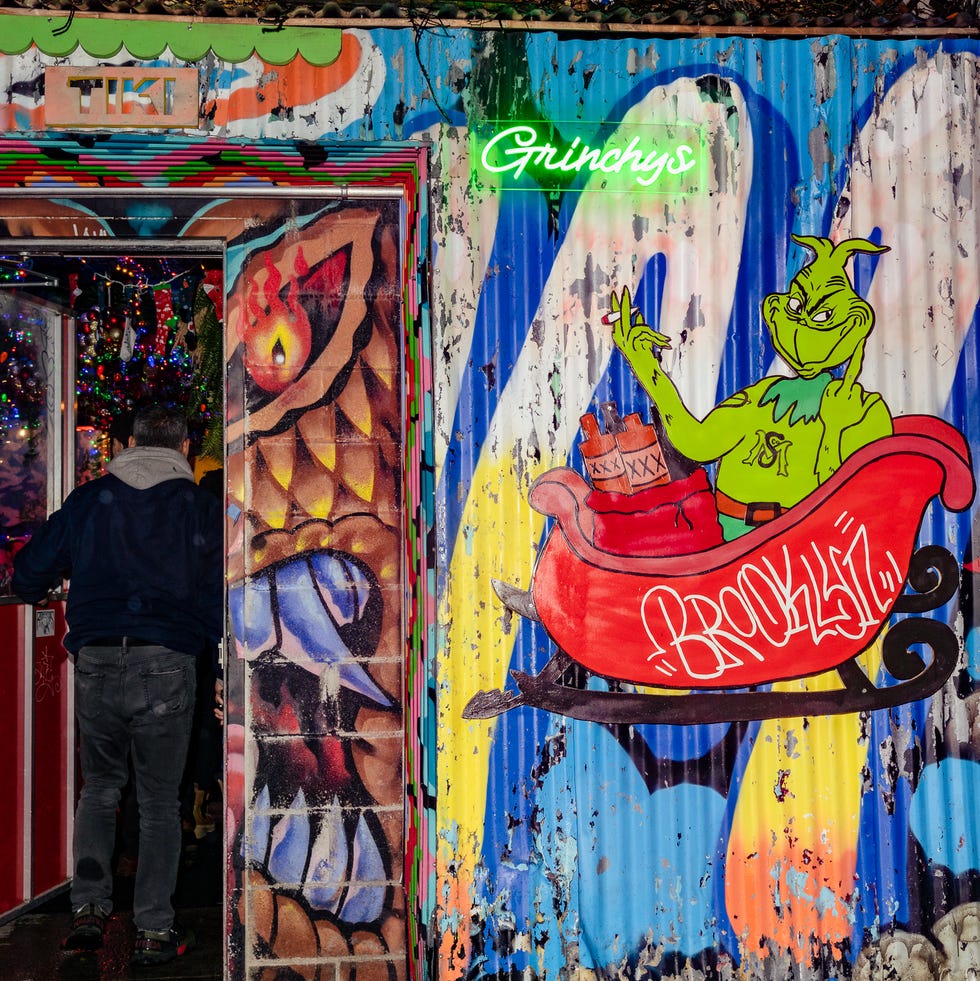 Roberta's may be known for slinging some of the best pizzas in New York, but they also transform their Tiki Bar into a Grinch-themed holiday pop up. Beyond a lineup of festive cocktails, you can also indulge in a feast-worthy menu of suckling pig, prime rib, and dry-aged duck. It'll make your heart (and your stomach) grow three sizes.
PLAN A TRIP 261 Moore St, Brooklyn, NY 11206
Advertisement – Continue Reading Below
13
Frosty's Christmas Bar (Midtown)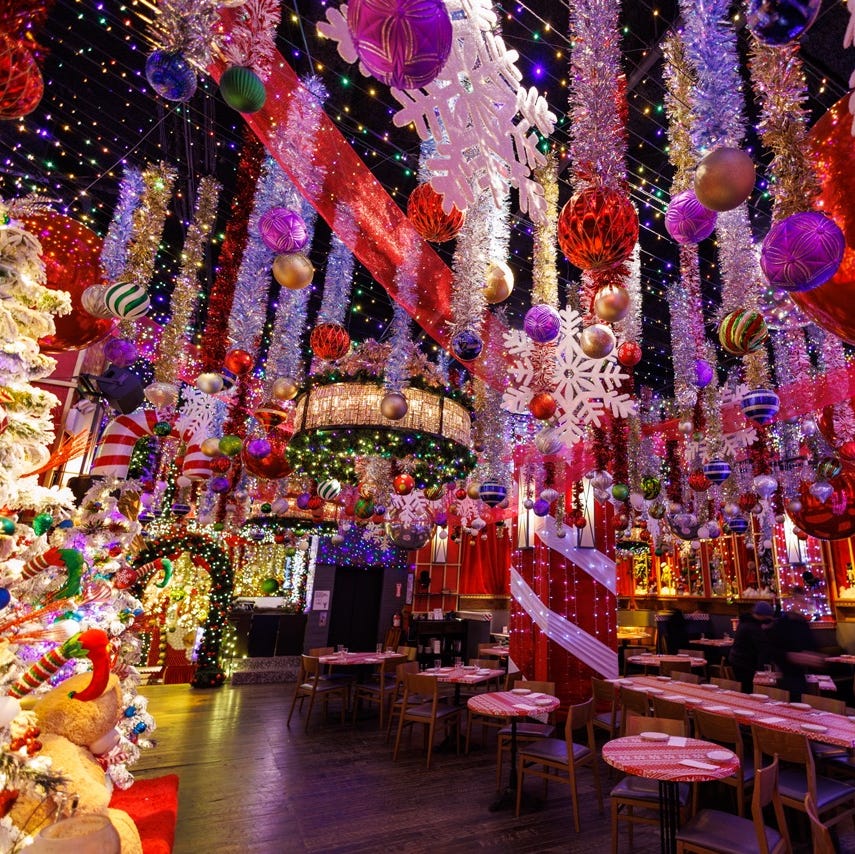 Located near the heart of Times Square, the bar Bacall's & Blue transforms into Frosty's—the ultimate holiday oasis. Whether you want to get the perfect Christmas photo-op, try a specialty cocktail, or share a shotski with your friends, Frosty's is the place to be this holiday season.
PLAN A TRIP 220 W 44th St, New York, NY 10036
Watch Next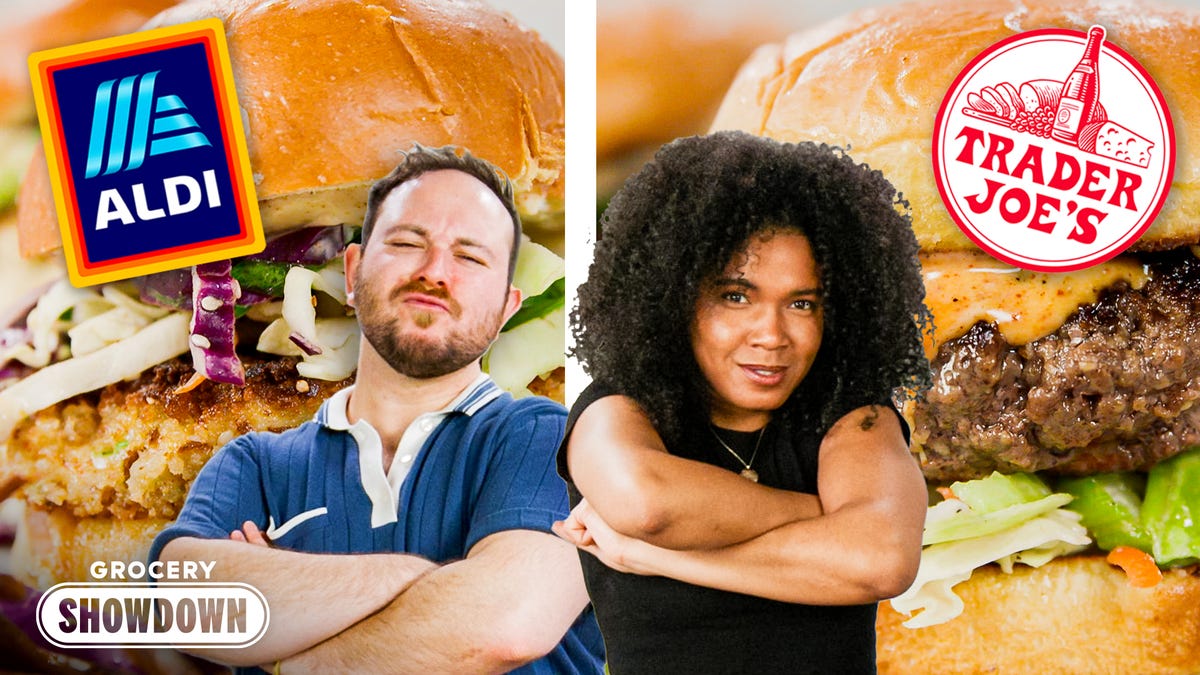 Advertisement – Continue Reading Below
Advertisement – Continue Reading Below